TRY OUR NEW MENU ITEMS!!!
Indo-Thai Varieties, New appetizers, curries, and much more!!

NEW BIRYANI SPECIAL!!!
Lahsuni Biryani available now. Order Veg, Chicken or Goat Dum Biryani mixed with Lahsuni (Garlic) sauce now.

BAWARCHI DELIVERS!!!
Now have your favorite food delivered to your home. We deliver within 5 mile radius in the evening. Allow 75 min for delivery. Select Delivery and enter your address to confirm if we deliver to your address at Checkout.
Online Order Chat Support
Now you can get live help from Online Order specialist if you have questions or issues with ordering. Use the "Let's Talk" link to initiate live Chat with our Team.

Specials -
Chicken Haleem, Chicken Wings available in Specials Section

Weekend Unlimited Meals(Dine In Only)
Bawarchi Biryanis Ashburn is now offering Unlimited South Indian Meals on Weekends and Holidays for Lunch. Enjoy special South Indian specials to your heart's content. Meal includes Welcome Drink, Appetizer, Sweet, Ice Cream, Poori, Rice, Pulao, Veg/Non-Veg Special Curries, Dal, Sambhar, Rasam, Papad, Chutney.

Bawarchi Unlimited Veg Meal - 12.95
Bawarchi Unlimited Non-Veg Meal - 13.95
Add your favorite Biryani or daily specials for small Add On price.


September 5 2017
LAUNCH OF ANDROID AND IOS MOBILE APPS OF BAWARCHI ASHBURN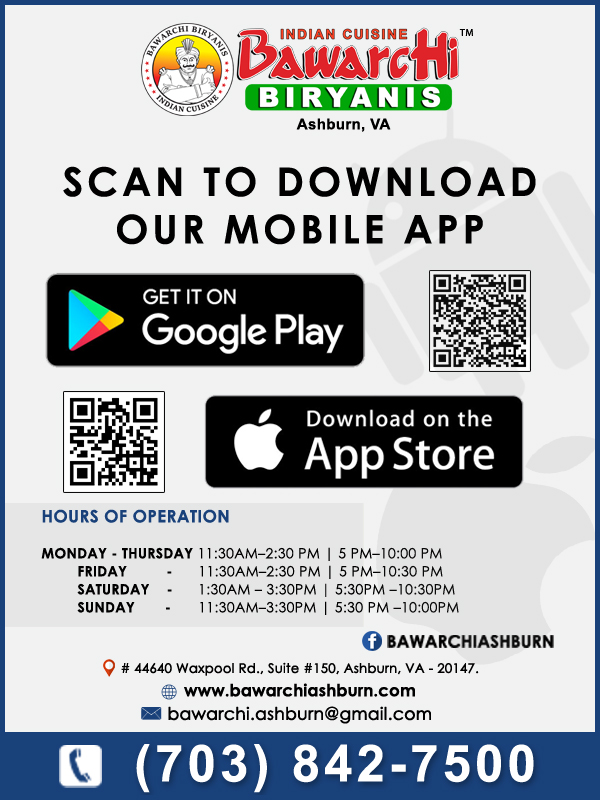 We are excited to announce the launch of Android and iOS mobile apps for Bawarchi Biryanis, an Indian Cuisine Restaurant in Ashburn, VA.
Download the apps by scanning the QR Code in the image on the Top (or) download by clicking the links below.
SKIP THE LINES AND ORDER USING THE MOBILE APP
Downloads:
#BistroStack #Indian Restaurant #Bawarchi Ashburn #MobileApps #Andriod #IOS
---
June 1 2017
UNLIMITED MEALS - WEEKEND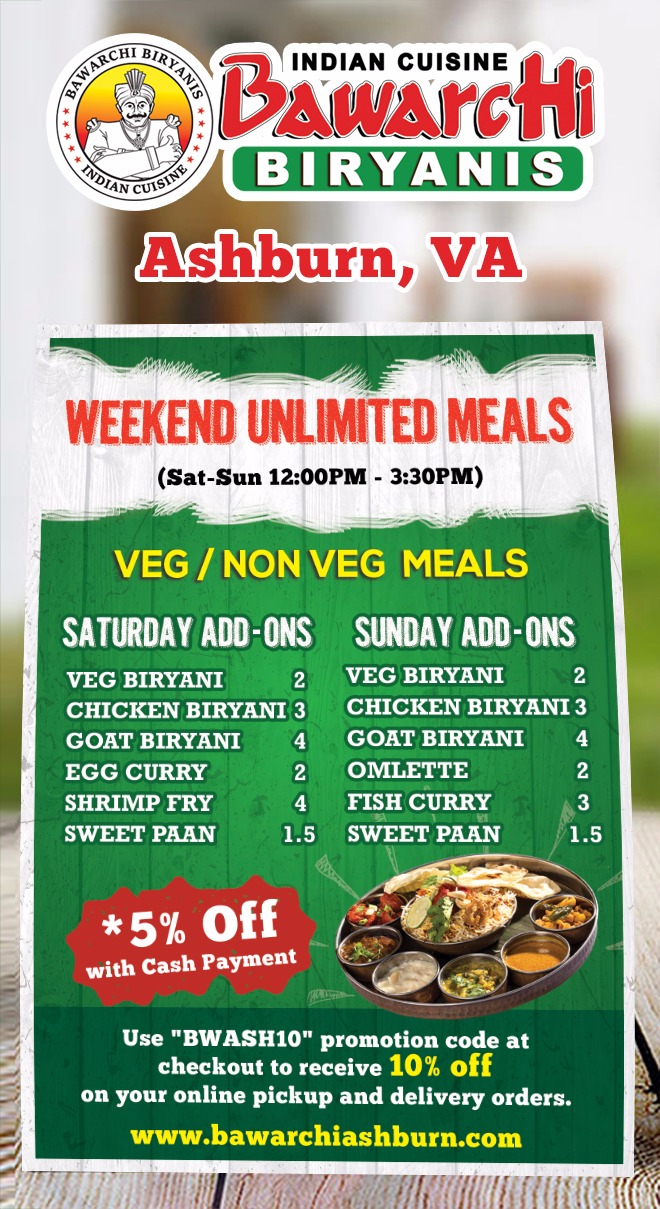 ---
November 28 2016
GRAND OPENING WITH FULL MENU ON DECEMBER 8TH
Grand Opening of Bawarchi Biryanis Ashburn with Full Menu on December 8th.
---